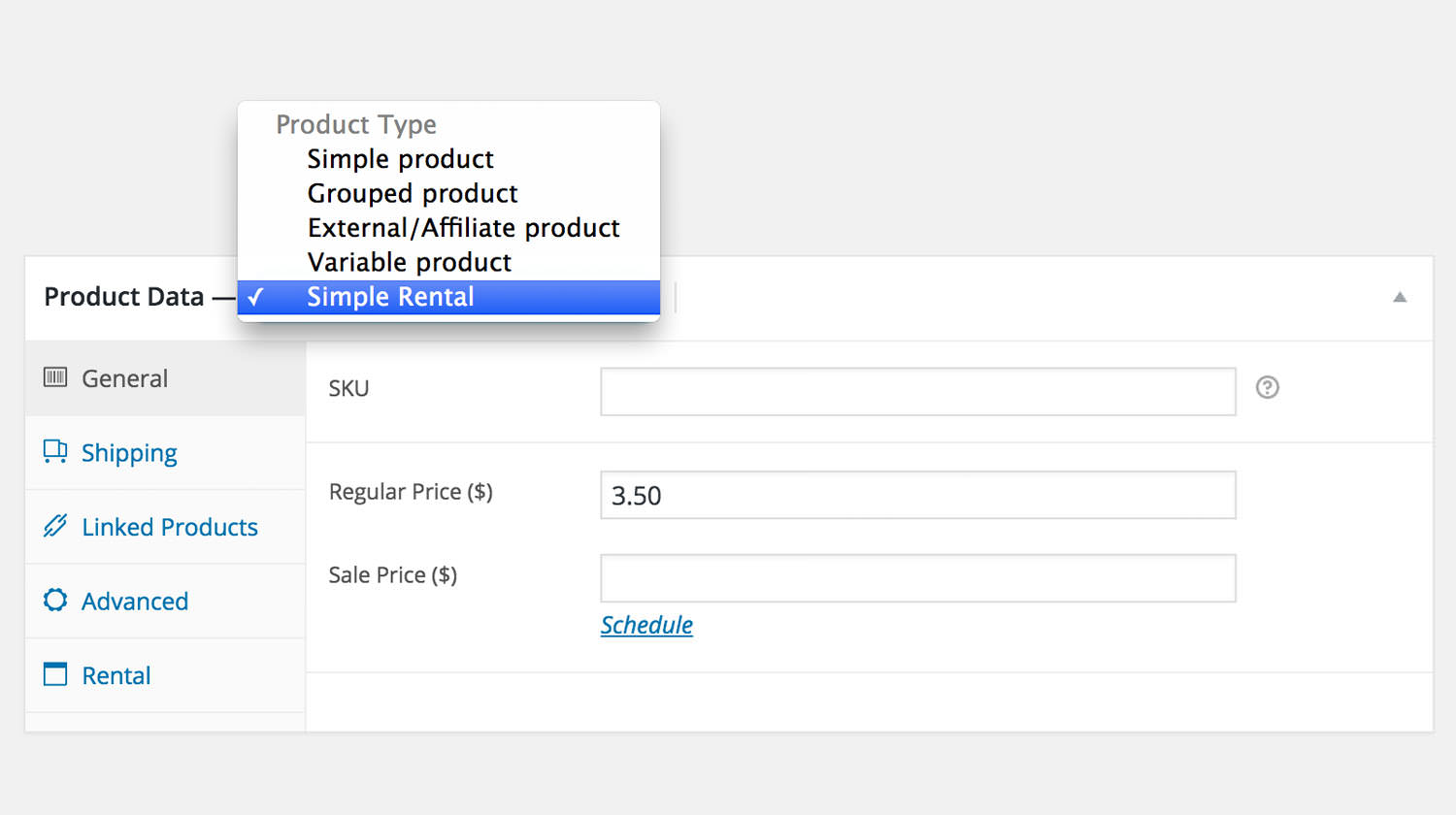 I have used custom product types a couple times in the past for different projects where it made sense (for example for a product rental plugin I created both a 'simple rental' and 'variable rental' product). It is only recommended to create a custom product type when it is really necessary and it doesn't fit in the existing options of the current product types.
Getting started
In this post I will be using some examples of how to create a Simple Rental and Variable Rental product types. This will be packed in a small and overly simple plugin.
Register a new class
To get started you first need to create a class that is extending the existing WC_Product class. It is vital to have the product class named the same as in the classes' parameter product_type, ('same' as in same name, each first letter of the class name should be capitalised and should have underscore separators). It is vital because WooCommerce uses the product type to get the class name and if its called differently it will not be recognised.
In my example I called my class WC_Product_Simple_Rental.
On itself, this doesn't do much as you will not see it in the drop down when you select a product type. To add it do the product type drop down, use the following code.
Thats it!, the most basic form of adding a new product type! You will now be able to select your new product type from the drop down on the edit product pages.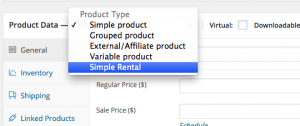 In the rest of the post I will show a couple examples how you can further extend your own custom product type.
Regaining the price fields for a custom product type
One of the first things you might notice, is that the price fields are no longer available for your custom product type. Although it isn't relevant for the Rental product types, it may be for your situation. Unfortunately there is no 'official' way of regaining those fields (via hooks for example), so we have to manually display them via a bit of Javascript/jQuery.
Adding a new settings panel for your custom product type
If you examine the code above, you will see that a class name show_if_simple_rental is being added, WooCommerce automatically shows or hides certain elements on the page that have related classes. A couple examples of available HTML classes that you can add to elements;
show_if_simple / hide_if_simple / show_if_variable / show_if_downloadable / hide_if_virtual
Each product type (also virtual and downloadable options) has its own classes to show or hide elements.
You can use the following code to add a new settings panel and it will only show for the new Simple Rental and Variable Rental product types.
WooCommerce will auto-load the values of the new custom fields if the id and the post meta field name (key) are the same.
Hiding an existing data panel for your custom product type
Good chance you will not need all the data panels for your new product type, and under the motto "less is more" it is a good idea to remove the unnecessary data panels. With the following code the "Attributes" data panel will not show for the custom product types we just created.
End result – a small custom product plugin
This is my end result when creating this post and posting the code snippets. It will work, but its a plugin in its utter most basic form. That is why its highly recommended to use this as example work, and not actually use it on your website.
Last words
I would love to hear from you if you found this useful, would like to see something else, missing something or just a simple thank you 🙂