This is a short blog post about the shipping debug mode. I will explain what it is, where you can find it, how you can use it and for what situations you should enable this setting.
By default WooCommerce caches every shipping rate calculation for 1 hour. They are doing this because calculating the shipping rates is a fairly complex process compared to some other functions, but primarily because this will get called every time you change something in your checkout page. Ever noticed the checkout totals are re-loading when you type in your address or change a letter in your address for example? Every time you change something WooCommerce will reload the shipping rates based on your 'new' address. If none of the essential fields are changed (like zipcode), it will get the rate from the cache instead of re-calculating it on every reload.
This is good for a live webshop that has everything set to go. But when you're configuring your shipping rates, it can give you a wrong idea that something is not working, whilst it actually might be working.
For that challenge is a solution; the shipping debug mode. When enabled the shipping rates will no longer be cached and every time you refresh the page it will re-calculate the shipping costs.
Enabling the shipping debug mode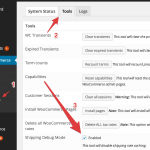 To enable the shipping debug mode you need to go to WooCommerce -> System status -> Tools; On that page you will find the 'Shipping debug mode'
Note The setting has been moved to the 'Shipping' > 'Shipping options' section in WooCommerce 3.0+
I hope this will help some people who struggle with shipping rates that do not change, even though they put every setting right.